---
The LG WD-8074FHB Front Load Washing Machine is not a bad machine, we have had ours for a little over 8 years, so it is getting on a bit now.
It gave us a bit of a scare last year when it made some really weird noises, but after emptying the filter for the very first time, the problem was solved.
However, we now have another problem. A piece of wire dropped out from the front door seal assembly. The spring clasp had rusted through, not bad for lasting 8 years I suppose.
This was the wire assembly: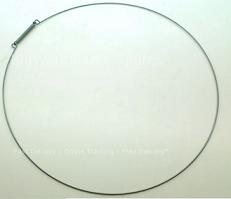 I was faced with a choice, leave it, which proved to be the wrong choice as the rubber seal came adrift after a few more uses of the washing machine, or replace it.
Well, today I decided that a replacement was needed. The item costs AUD$20, from Sydney, with about another A$20 for delivery, so about A$40 all up..
But then, I start to wonder… is it time to buy a new Washing Machine ?
Do I spend $40 on something this old, and then some more money when the next thing goes wrong ?
I could buy a new 7kg Front Load Simpson Washing Machine, model number SWF10761, for just $518 including delivery, and removal of the old one.
That new Simpson machine is rated at 3.5 for electric (at 320kWh per year) and 4.0 for water efficiency, my old LG was rated 4 for Electric, with 200kWh per year.
It's decision time…
Another LG, with 4 star Electric rating, would cost me $749 for the 7kg Front Load LG Washing Machine WD11020D, but even that one quotes 280kWh usage.
---
393.1 - 778,969

↓

Scroll down for Comments

↓
---