---
What is the IKEA Item Product Number 153548..
IKEA Item 153548 is the Plastic Plug Feet that go on the bottom of the BILLY bookcase.
IKEA Plastic Plug Feet
This is the item, shown in the Assembly Instructions (the BILLY bookcase comes with 5 of them):
This is the effect, with one bookcase using the feet and one without: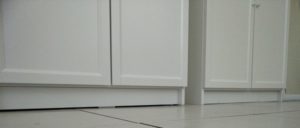 You will see that one unit, the one on the left, is slightly higher than the one on the right (the one without the little plastic plug feet).
This helps when mopping the floor, to stop the unit absorbing water. It isn't very high, but maybe enough for some water protection.
It also saves the floor if dragging the unit. Although the unit is intended to be attached to the wall for safety.
---
973.1 - 778,594

↓

Scroll down for Comments

↓
---