---
Schindler's List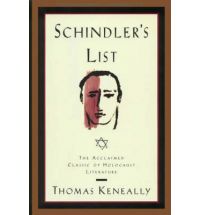 by Thomas Keneally
To 1200 Jews a womanizing, heavy-drinking, German-Catholic industrialist and Nazi Party member named Oskar Schindler was all that stood between them and death at the hands of the Nazis. He was a man all too human, full of flaws like the rest of us. The unlikeliest of all role models. An ordinary man who answered the call of conscience. He remained true to 'his' Jews, the workers he always referred to as 'my children'. He rose to the highest level of humanity and gave them a second chance at life. He spent millions to protect them, everything he possessed, and eventually risked his life in desperate rescue attempts. Even on the days when the air was black with the ashes from bodies on fire, there was hope in Crakow because Oskar Schindler was there.
In those years, millions of Jews were exposed to ruthless slaughter in the Nazi death camps, but Schindler's Jews miraculously survived. Today there are more than 8,500 descendants of his Jews living in the US, Europe and Israel.
Oskar Schindler died in Hildesheim in Germany October 9, 1974. He wanted to be buried in Jerusalem. As he said: My children are here ..
He died penniless, but he earned the everlasting gratitude of his Jews. He was mourned on four continents and generations will remember him for what he did.
Hardback 400 pages
Published: 31 December 1998
ISBN 13: 9780671516888
ISBN 10: 0671516884
UK
USA
Australia:
---
Schindlers List DVD
Schindler's List, a Steven spielberg film, is a cinematic masterpiece that has become one of the most honoured films of all time.
The film presents the indelible true story of the enigmatic Oskar Schindler, a member of the Nazi party, womaniser and war profiteer who saved the lives of more than 1,100 Jews during the Holocaust. It is the triumph of one man who made a difference, and the drama of those who survived one of the darkest chapters in human history because of what he did.
Prices at March 2011
Amazon USA
---
156.1 - 779,326

↓

Scroll down for Comments

↓
---