---
Murder on the Ballarat Train.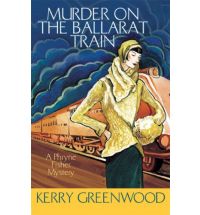 Phryne Fisher, the glamorous lady detective, is giving her red Hispano-Suiza a break: this week she is travelling by train to Ballarat. But what should have been the trip of her dreams, soon turns into the stuff of nightmares.
Phryne has to use her Beretta .32 to save her life and that of her traveling companion Dot. And someone has poisoned the other passengers with chloroform.
Publisher: Poisoned Pen Press
Published: 01 September 2007
Format: Paperback 151 pages
ISBN 13: 9781590584057
ISBN 10: 1590584058
Priced at August 2020
Australia:
USA:
---
151.1 - 763,682

↓

Scroll down for Comments

↓
---