---
$49 for TWO Ice Gel Memory Foam Pillows, delivered Australia-wide for no extra charge.
That sounded good, especially as I had bought one locally for $199 a short while ago.
The offer came from dealboard.com.au, one of these Daily Deal advertising companies.
The advert did say "Please allow 2-12 weeks for delivery". So I ordered them, on the 13th September 2012. Well, the 12 weeks that I thought was their delivery safety net went past on the 6th December 2012, but nothing had been delivered. I chased it up with dealboard.com.au, and was advised of delivery problems, but that it would be with me by 30th December.
On the 3rd January 2013 it arrived.
But… I compared it to my original locally bought one, and it was very different.
My locally bought one for $199
Weight: 2.5kgs
Size: 65cms x 44cms and fits a standard pillowcase.
Made in Italy (according to the product tag/washing instructions label) By Technogel
The new ones at $49 for 2
Weight: 1kg (not as much Gel as the more expensive ones)
Size: 49cms x 30cms and is much smaller than a standard pillowcase.
and it has a strong chemical smell. (Maybe as it is new)
No product tag, no details of manufacturer etc.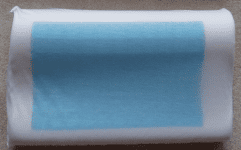 ---
158.1 - 778,969

↓

Scroll down for Comments

↓
---