---
Does Prince Harry own Frogmore Cottage?..
Some people are saying that as Prince Harry owns Frogmore Cottage, then he should pay for its renovations.
If that was true, then he should.  After all, all property owners pay for renovation and maintenance costs.
But, Prince Harry does NOT own Frogmore Cottage.
I wonder why this statement has been made in the news..
Meghan Markle and Prince Harry have offered to cover the rent and bills on Frogmore Cottage – and repay the £2.4million that taxpayers forked out to renovate the property. The pair intend to keep Frogmore as their family home in the UK as part of their decision to step down as senior royals.
It is said that the Duke and Duchess of Sussex might pay up to £360,000 a year in rent to keep Frogmore Cottage as their UK home.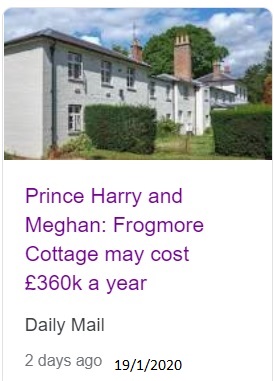 Not many tenants pay rent and the capital cost to bring a property up to standard.
Did taxpayers actually pay £2.4million to renovate Frogmore?
The cost was covered by the Queen from the Sovereign Grant, not from taxpayer funds.
Under the Terms of the Sovereign Grant, the Sovereign receives the equivalent of 15% of Crown Estate profits from the profits of the year ended two years previously.  The UK treasury (taxpayer funds) normally keeps 85% of the profits.
If Prince Harry repays the Queen, then it becomes available for normal Royal expenses again. Another property in need of renovation can be renovated.
The £2.4million does NOT go to the Taxpayer.
Is it Frogmore Cottage or Frogmore House.
Frogmore Cottage is a small property on the Frogmore House estate.
This is Frogmore Cottage:

This is Frogmore House:

Frogmore Cottage and Frogmore House:
---
1,218.1 - 742,234

↓

Scroll down for Comments

↓
---