---
Cleopatra an African-American?
In recent days, the internet has been full of discussions/arguments about Cleopatra being an African-American.
This all started after "Queen Cleopatra" premiered on Netflix on 11 May 2023, with actress Adele James depicting Cleopatra, the Queen of Egypt, as a black-skinned woman.
This led to outraged accusations of 'falsifying history' from many quarters.
An Egyptian team consisting of several jurists and archaeologists demanded financial compensation worth two billion dollars from Netflix for distorting the image of Queen Cleopatra and ancient Egyptian civilization.
A letter submitted by the team to UNESCO stated that Egypt has the right to an initial compensation of two billion dollars for distorting the "Egyptian identity".
Cleopatra, although born in Egypt, is stated to be of Greek/Macedonian ancestry.
These are examples of two recent Egyptian born leaders.
Princess Fuad of Egypt
King Fuad of Egypt.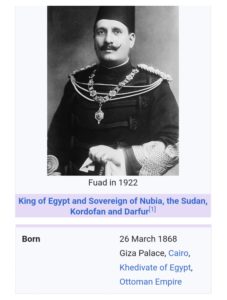 The term "African-American" implies someone with both American and an African Citizenship.
Would this be one example?
Born in an African country, with an African born father, and holding American and an African Citizenship.
---
38.1 - 763,589

↓

Scroll down for Comments

↓
---