---
Sometimes a website loads fast, but sometimes slowly. I often wonder how fast my sites run at for most users.
I found a new website today that actually tests sites for speed, and decided to publish my results.
They run simple load tests with up to 50 concurrent, simulated users, to give an idea of what the site can be like under a bit of pressure. 50 concurrent users would be high'ish for most of my sites.
My main sites: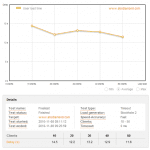 http://loadimpact.com/result/www.abcdiamond.com
http://loadimpact.com/result/www.abcdiamond.com.au
http://loadimpact.com/result/www.britzinoz.com
Now to work out what all this means 🙂
---
39.1 - 779,189

↓

Scroll down for Comments

↓
---