---
Who Wants To Be A Millionaire: Jeremy Clarkson refuses to answer contestant's question..
That was the headline, but what was the REAL story?
Did he REALLY refuse to answer?
The Headline statement..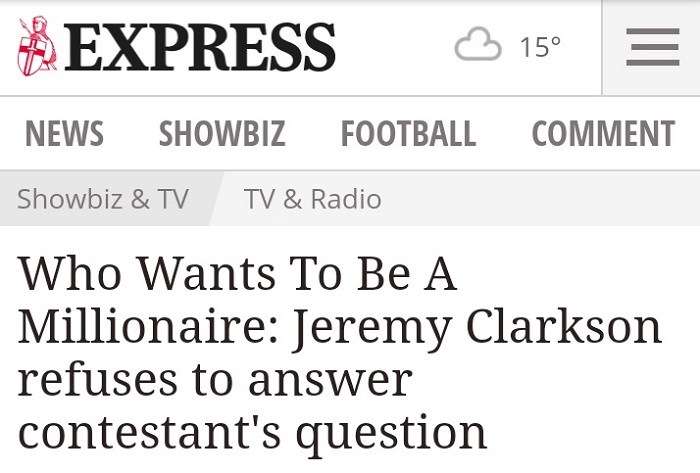 The Question he REFUSED to answer was ..
The ANSWER he did give:
Jeremy Clarkson: "Here's what I think, we know Reagan was a Republican and fairly sure Hoover was. Honestly, I couldn't say. [for the other two]. I wouldn't be prepared to take a punt with 16 thousand of your pounds on this and that's my final answer."
The contestant, Suzie, had used her 'Ask the host' lifeline to get Jeremy's opinion of the question.
Contrary to the headline, Jeremy Clarkson did NOT refuse to answer, but answered with uncertainty about the options.
The answer to the Question is shown below:
Herbert Hoover, the 31st U.S. President. In office March 4, 1929 – March 4, 1933, was a member of the Republican party.
Harry S. Truman, the 33rd U.S. President. In office April 12, 1945 – January 20, 1953, was a member of the Democratic Party.
Dwight D. Eisenhower, the 34th U.S. President. In office January 20, 1953 – January 20, 1961, was a member of the Republican party.
Ronald Reagan, the 40th U.S. President. In office January 20, 1981 – January 20, 1989, was a member of the Republican party, but was a member of the Democratic Party before 1962. (Reagan was a Republican while he was President)
---
148.1 - 764,071

↓

Scroll down for Comments

↓
---